For more than 30 years, the mission of Kerusso has been a simple one: Proclaiming the Good News to the world through products about Jesus. Christian T-shirts are one way we equip others to spread that Good News; and if you're like us, you practically live in your favorite T-shirt. Our Kerusso Blog is another way we do share the Good News.
While our shirts offer comfort and quality, they also share the life-changing message of the Gospel with everyone who sees you wearing it.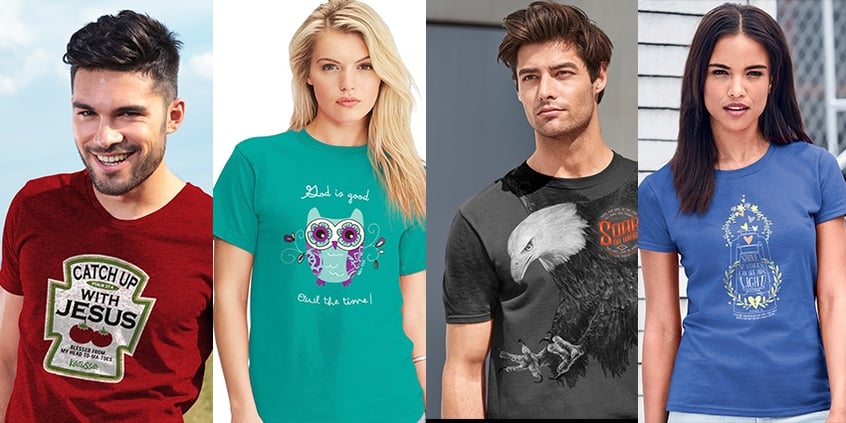 Ever wonder whether wearing a Christian T-shirt or hat really makes any impact? Kerusso Founder & CEO Vic Kennett explains where "T-shirt evangelism" came from and how basic tees became popular (does James Dean ring a bell?).
In fact, recent studies show that a single message on a shirt is viewed as many as 3,000 times over the course of its life! That's a whole lotta sharing of the Good News!
The team at Kerusso prayerfully considers every design, every inspiration, and every scripture reference that goes into our original T-shirts, hats, and accessories. Each tee is threaded with messages of faith, hope, love, and redemption; we like to think of them as cotton-infused inspiration. A Christian T-shirt is a simple but powerful way to share your faith and start conversations, and all you have to do is wear it to be part of this exciting movement!
We invite you to follow along with our all-new Kerusso Blog by signing up for a single weekly email packed with devotional-style content, testimonies to warm your heart and spur your spirit, encouraging interviews with faith leaders and sports stars, uplifting Christian comedy, and sneak peeks at our newest product designs.
We look forward to sharing deeper insight into each of our designs, and diving into God's Word together. We hope you'll join us for this ongoing series, and let us know in the comments how each message or concept impacts you.
• • •
We'd love to hear from you! Want to tell us which Kerusso tee or hat inspires you, or share a personal story of T-shirt evangelism in action? Maybe you'd like to carry Kerusso products in your store. Need to contact us about something else? Send us a note.