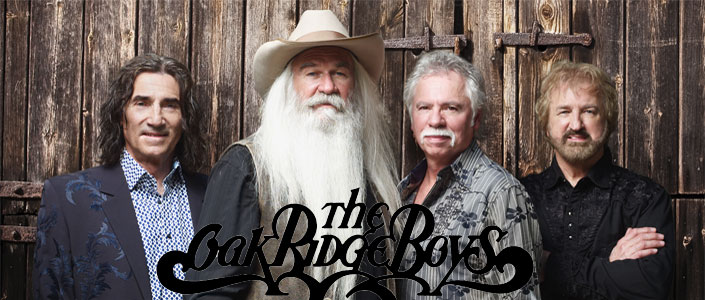 To celebrate Father's Day, the Kerusso Blog reached out to Joe Bonsall of the Oak Ridge Boys. He's been with the iconic group for most of his adult life, and the Oaks are still going strong in 2018. Today, we talk with Joe about his daughters, Jennifer and Sabrina, and what it's like to be a grandfather (Breanne) and a great-grandfather (Luke). Joe and his wife, Mary Ann, live in Tennessee. Joe is also an accomplished author, and has been known to break out a banjo now and then.
Kerusso: Joe, you've been a member of the Oak Ridge Boys for going on 45 years. You guys are like brothers, and you also have a particularly close relationship with your fans. But, what is it about the music that keeps drawing you in?
Joe Bonsall: Well, we love the music and have a ton of respect for each other and what each brings to the table, but it is more than that. We take more history to the stage and recording studio than other any act you might know of. The original Oak Ridge Quartet began in 1943 and if it stopped today, music historians would shake their heads at all we have accomplished, so it is not just the music that keeps us going, it is the history. To a man, we don't want to see it end until God says so….
Kerusso: Many of the group's songs have to do with family, faith, and patriotism. What has contributed to the Oaks' legendary success and consistency? The group still plays an exhausting number of shows each year.
Joe Bonsall: We have always been a hard-working group. We still average about 150 dates a year, including a monster-sized, full-production Christmas Tour each November and December. We are pretty much America's group playing Fairs and Festivals and performance centers. Our show is for the entire family.
Kerusso: Tell us a bit about how you became interested in music.
Joe Bonsall: In a short answer, I grew up in Philadelphia during the early years of teen idols, do-wop, Elvis and American Bandstand, so that was the earliest influence. Later on in my young teens, when I first heard Southern Gospel quartets, my journey began in earnest. I just wanted to sing and be a part of a group. Well, that worked out….
Kerusso: Father's Day is coming up. You have two daughters, Jennifer and Sabrina, and happily, you are also a grandfather. Tell us a bit about being a dad and Grandpa.
Joe Bonsall: It is one of my greatest honors, and I thank God each and every day for His guidance in the matter. And, by the way, I am also a great-grandfather now to Noah Chance! I am very proud of my family and thankful that I have been able to guide some light unto their pathway.
Kerusso: Are your kids musical?
Joe Bonsall: Not really… lol
Kerusso: Several years ago, you launched a poignant project about your parents. A book and song, both titled "G.I. Joe and Lillie," chronicles their love story, including how they met. Share that story with us briefly.
Joe Bonsall: My dad was in the first wave of attack on Utah Beach on D-Day, and my mom was with the Women's Army Corp. They met at Michel Field after the war and married two days later. In his later years, Daddy had a stroke when a piece of shrapnel stuck in his carotid artery and damaged his brain. My mom looked after him until the day he passed. It is an incredible story of love, family, and commitment.
Kerusso: Your dad was wounded during World War 2, and his injuries later cut his life short. You and the Oaks are especially appreciative of veterans, and of the sacrifices your dads gave for our country. What is the greatest strength you remember from your father, Joseph Bonsall Sr.?
Joe Bonsall: Well, he paid for that war his entire life and never considered himself a hero. But his Silver Star, Bronze Star, and Purple Hearts say otherwise. My mother raised me to love America. She cried when a flag went by. She told me I could succeed in life if I was honest, trusted God, and worked hard. She would always point at my father in his wheelchair and say it was because of him, and guys like him, that I have an opportunity…so don't blow it. My mom was right. Both my parents rest in Arlington today… Because Daddy WAS a hero.
Kerusso: In building a relationship with kids as a father, what is key for you?
Joe Bonsall: Trying to be a parent like my mother…
Kerusso: You have a 350-acre farm on the Tennessee-Kentucky border. Tell us a bit about the serenity you find out there, both for personal meditation and creativity.
Joe Bonsall: There is nothing like being able to enjoy God's beauty up close, and that is what my farm is like. Long walks, lots of work, a bit of fishing, a bit of shooting, and some great quiet time alone with my Savior is just a portion of this blessing. I thank Him every day for this land. It is my go-to place to commune with Him. My church if you will… and again… a lot of work, but so far I can still handle it!
Kerusso: Lastly, can you grow a beard as impressive as William Lee Golden's?
Joe Bonsall: NO WAY… I did grow a beard once in the seventies. But, I am a mustache guy…
Kerusso: Joe Bonsall, thanks for talking with us about fatherhood and life. Happy Father's Day!
Joe Bonsall: You are very welcome! And, thank you!