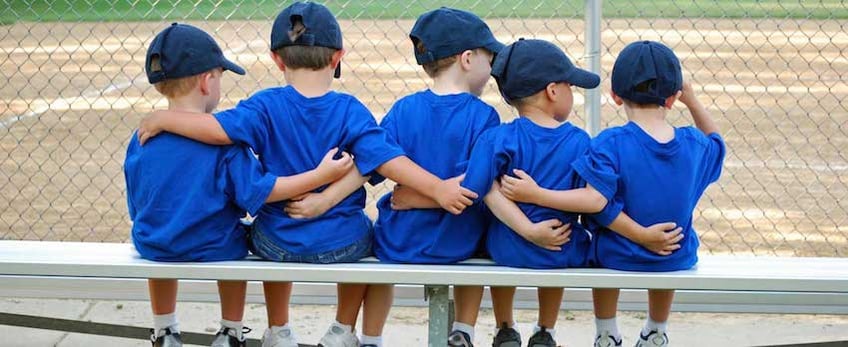 Google "grace in sports" and you'll find a parade of tawdry articles listing the 'Top Ten' or 'Top 20' or 'Worst Ever' falls from grace among recent history's top athletes. The topic of grace in regard to the Sports Elite seems to focus more on the lack thereof rather than a recognition of grace-filled, holy moments in the world of sports.
Near the top of this list of negative articles, though, is a 2005 poignant report penned by Mark Galli, Managing Editor of Christianity Today. In the piece, entitled "The Grace of Sports: If Christ can't be found in sports, he can't be found in the modern world," Galli describes transformative, joyous moments described by both patrons and participants in sports. He acknowledges the worldly corruption seen on and off professional sports fields, but he also illustrates that there are plenty of opportunities in the world of athletics to see God's fingerprints both on and off the field, and to participate in life-changing moments that invite the Savior into our lives.
An excerpt:
The mind reels at the image of Jesus trafficking with violent, self-centered, greedy athletes, immersed in an institution infamous for steroids, multimillion-dollar contracts, trash talk, and indecent end-zone celebrations. It's a scandal.

It's also the gospel. Indeed, if the grace and presence of God cannot be discerned in modern sports, then it will not be found in the modern world. No, sports does not bring us a saving knowledge of Jesus Christ, but like many other aspects of creation, it does allow us to touch the hem of his garment from time to time. And when that happens, it opens people up to considering a deeper dimension to life.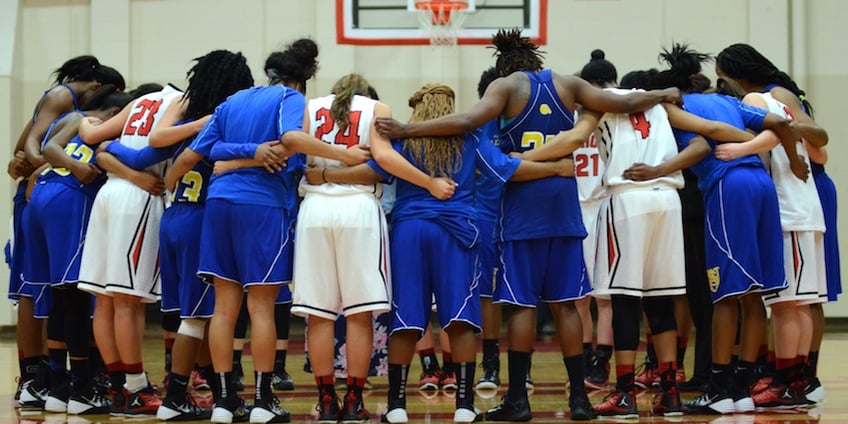 The very nature of humanity – we are fallen, imperfect beings, after all – lends an air of corruption and notoriety at the highest level of sports; but as Galli suggests in his superb article, sports can "allow us to touch the hem of [Jesus'] garment from time to time." As a spectator, casual player, professional athlete, or even the parent of an athletically inclined kid, how can we focus our minds and hearts on higher things, on and off the field, in regard to the sports we love?
We promote grace in the world of sports by seeking (and offering) grace on and off the field. #christianathletes #teamjesus
5 Ways to Seek, Find, and Be God's Grace in Sports
• Be a Gracious Loser. No one likes to come in last in the race, throw the pitch that seals the opposing team's victory, or fall a few yards shy of a key touchdown. Choosing an attitude of grace in the face of defeat lets you be a witness for Christ on the field, and helps you keep an eternal perspective when you are tempted to be caught up (and brought down) by a losing moment.
"Whatever you do, work at it with all your heart, as working for the Lord, not for human masters, since you know that you will receive an inheritance from the Lord as a reward. It is the Lord Christ you are serving."
— Colossians 3:23-24
• Honor God through Diligent Training & Practice.

Refine your skills and train for the game in honor of Christ, and in recognition of the blessings you enjoy from His mighty hand. Prepare for the game with deeper intention than you might for a paycheck, or a fleeting victory, or even personal glory.
"No discipline seems pleasant at the time, but painful. Later on, however, it produces a harvest of righteousness and peace for those who have been trained by it. Therefore, strengthen your feeble arms and weak knees. 'Make level paths for your feet,' so that the lame may not be disabled, but rather healed."
— Hebrews 12:11-13
• Give God the Glory in All Things. Whether you are celebrating a big win, a faster time, or progress toward a goal, give thanks and plenty of credit to Jesus, and acknowledge Him as the source of your natural gifts, hard-won talents, and ability to engage in the sports you love.
"I can do all this through him who gives me strength."
— Philippians 4:13
"And whatever you do, whether in word or deed, do it all in the name of the Lord Jesus, giving thanks to God the Father through him."
— Colossians 3:17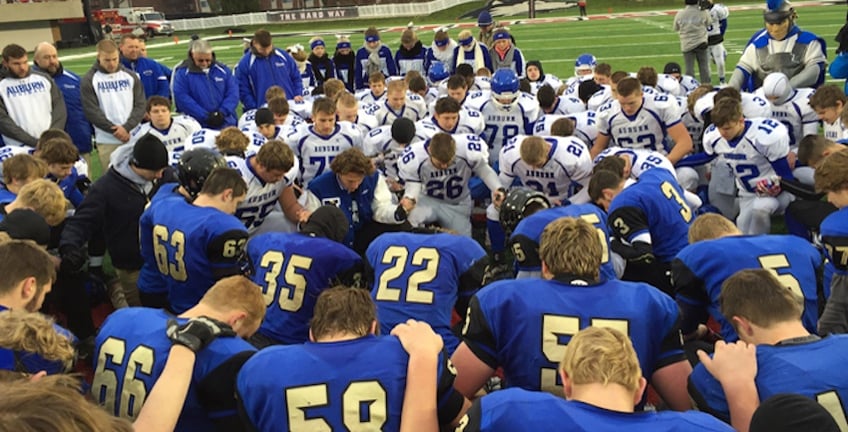 • Cultivate Spiritual Strength. When you do all things for the glory of God, including your favorite sport, you will be less tempted to turn to pessimism and frustration, and more likely to seek out ways to learn and grow in the face of challenges. Our lesser human nature is weak, and easily falls prey to anger, disillusionment, and even throwing in the towel. With God as our coach, though, we can stay strong and remain steadfast when the going gets tough.
"But those who hope in the Lord will renew their strength. They will soar on wings like eagles; they will run and not grow weary, they will walk and not be faint."
— Isaiah 40:31
• Set a Good Example from the Sidelines. Those of us in the stands, or even fans watching the big game on the couch, play an important role in setting a standard of grace in the world of sports. Few armchair quarterbacks achieve fame or a media platform, but responding to the events of your favorite game with grace is a positive example for those around you.
Do you hatefully boo and hurl insults at the opposing team from the bleachers, or malign the other side with gossip or harsh judgment? Or do you shout encouragement to all the kids on the soccer field or basketball court, thereby teaching your son or daughter to be a voice of encouragement on the team and to reach out in Christian love to every player? Do you take the opportunity to pray before a game, or, after the game, discuss the positive lessons learned (and opportunities to grow) that come from the mixed blessings of defeat?
As a parent, coach, or role model among your teammates and peers, being an athlete or active participant in sports of any kind is an opportunity to show God's love and extend grace to those around you.
"Therefore, since we are surrounded by such a great cloud of witnesses, let us throw off everything that hinders and the sin that so easily entangles. And let us run with perseverance the race marked out for us."
— Hebrews 12:1
Holy, grace-filled moments abound in sports, even in the midst of the chaos and turmoil promoted by much of the media. When we approach sports with an attitude of humility – and when seek to find, and be, God's grace on and off the field – He is sure to show up.
• • •
• • •
Do you know a sports standout whose faith on or off the field inspires you? Nominate someone to be featured on the Kerusso blog. Email your suggestion to
blog@kerusso.com
.