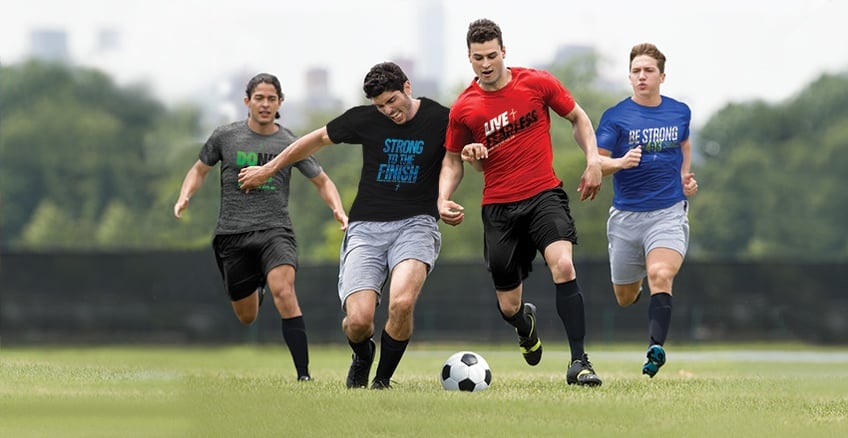 Once upon a time you had to pack an entire outfit in something called a "duffel bag" in order to hit the gym or join the guys for a game of basketball after work. The cool thing about modern fashion is that styles evolve over time – making it possible to not just look good, but to feel good and function in ways that make sense. We think you should be able to go from school or work to home or the gym without multiple costume changes. Who has time for all that?
Kerusso ACTIVE™ offers wardrobe preparedness that is casual but stylish, comfortable but streamlined, and fully functional for everyday wear or your workout. Why shouldn't Clark Kent wear his moisture-wicking Super Suit all the time – instead of hiding it under a suit and tie? Premium Kerusso ACTIVE sports apparel empowers people of all ages to share the gospel while encouraging them to be active, both physically and spiritually.
Kerusso ACTIVE [Christian Performance Wear] Smart Features include*:
• Moisture-Wicking Fabric
• Anti-microbial
•

UPF 30-50
•

Double-Needle Stitching
•

Flatlock Shoulder Seams
•

Tagless neck label
*see individual product specifications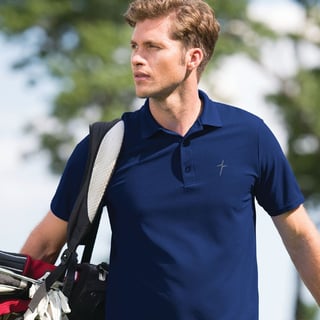 Active Cross Men's Polo
This Kerusso ACTIVE polo makes a subtle statement of your faith, whether you are teeing it up out on the golf course, serving it up on the tennis court, or meeting up at the office, school, or church. In Mark 16:15 Jesus said, "Go into all the world and preach the gospel to all creation." Each day brings new opportunities to witness and share your faith with those who need to experience His love and grace.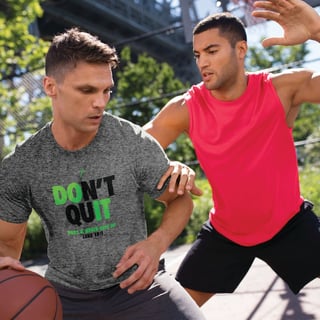 Don't Quit Men's Active T-Shirt
The game may go long and the opposition may throw everything they have at you. You may feel like your only choice is to throw in the towel. But, it's during those times you should look to the Lord for His strength. This Kerusso ACTIVE T-shirt reminds you that you don't have to quit; you can pray, be filled with faith, and refuse to give up.
Also available in Youth Sizes.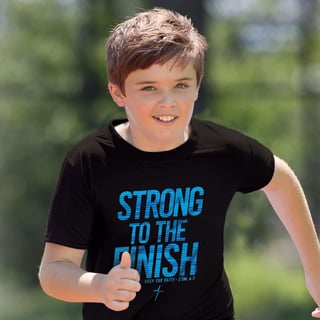 Strong to the Finish Youth Active T-Shirt
With this Kerusso ACTIVE shirt, young men and women can put their faith in motion. Its message about finishing strong resonates with everyone. As we learn and grow, life can cause us to stumble, and sometimes we may even find it hard to get back up. But in order to finish strong, we need to live strong—and we need to keep the faith.
Also available in Adult Sizes.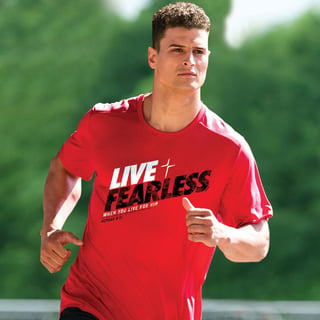 Live Fearless Men's Active T-Shirt
In life, you will have times when your back is against the wall and there seems to be no way to win. The pressure can be overwhelming, and you may not be sure if you can make it. Put your faith in motion each time you wear this shirt and confidently live the promise found in Romans 8:31, "What, then, shall we say in response to these things? If God is for us, who can be against us?" No matter what challenges you face, you can stand strong when you live for Him.
Also available in Youth Sizes.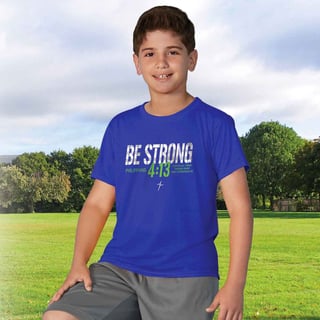 Be Strong Youth Active T-Shirt
Philippians 4:13 says, "I can do all things through Him who gives me strength." No matter what the challenge is, Jesus is available to help you be strong. There may be an obstacle course in front of you; or there may only be seconds left in the game when one final play will determine victory or defeat. No matter the outcome, the Lord provides strength for you to give your all until the final whistle, in the game, and in life.
Also available in Adult Sizes.
Whether you're dressing for success at home, at the office, or on the field, Kerusso ACTIVE™ offers the comfort, function, and style you need to put your faith in motion.