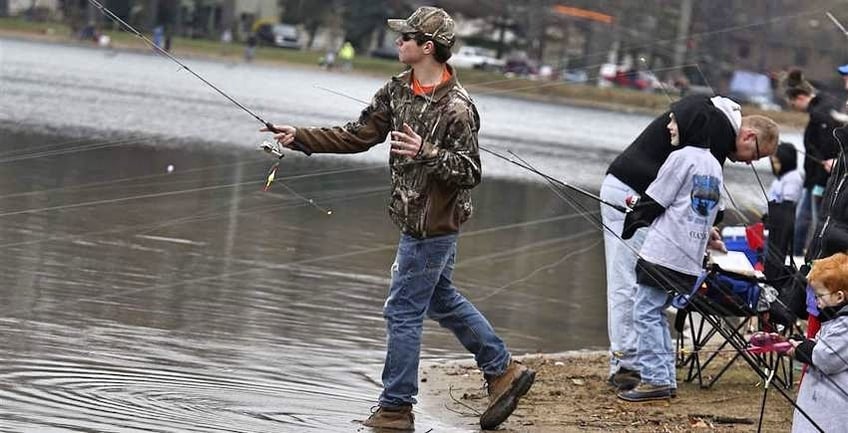 A frequent young visitor to his grandma's apartment in Ohio, Tyler Holben, 18, remembers her showing him a collection of books featuring pictures and stories from the Bible.
"She had a lot of books," says Tyler, 2016 and 2017 Ohio Master Angler Award Winner. "She used to show me these picture books, and at the time, I didn't really know what they were about, but they had pictures of stories from the Bible.
"And I don't know why exactly, but I always gravitated towards those books."
He recalls that whenever he would do something he wasn't supposed to, his grandma, Pat Kurek, would "get on to me and then show me what God said to do and stuff like that."
"Growing up, my family didn't really go to church. She was the only one who was a devout Christian," Tyler says. "I didn't grow up in a Christian household. She was a big reason why I am who I am today."
His grandma died just a few months ago, Tyler told the Kerusso Blog Team in an exclusive interview recently.
"Holding on to the words You've spoken
Through the fight and the flames I'm not alone
My hope in You is set in stone…
So let the sky fall down, the earthquake shake the ground
Whatever comes my way I know that
I'm coming out unbroken…" *
Losing his grandmother was rough, but thanks in large part to her lessons and the support of his church, Tyler, now 18, says he has learned much from his mistakes.
"I quit trying to fit in and I started to going to church, and it was there that I discovered who I really am," he explained.
Tyler, who lives in Sylvania, Ohio, says he accepted Christ as his savior when he was in the sixth grade, and since then his family has tried to attend church more regularly.
In May, Tyler won the first of the Ohio BassMasters high school tournament series, catching the winning fish with two minutes left to weigh in. He plans to attend Adrian College in Michigan and be a part of their fishing team. He's already racked up 19 professional-level sponsorships and quite a list of accolades: Four-time Fish Ohio tournament winner, two-time Ohio Master Angler, a Rapala VIP, a promotional representative of Kerusso Christian T-shirts, a member of Fellowship of Christian Athletes, and now the newest recruit for the No. 1 angling college in the country.
"Once I get to college, I am going to compete against teams like Michigan, Ohio State and Alabama," Tyler says with excitement in his voice. "But Adrian is Top 10 in the country in bass fishing. It is so crazy that this small school competes with all these big schools."
But that's what he loves about competitive fishing.
"It is not about how much weight you can lift or how much money you have to spend for training or camps," he notes. "It is about who is the best at outsmarting the fish, who is the best at finding what patterns work, and where the fish are."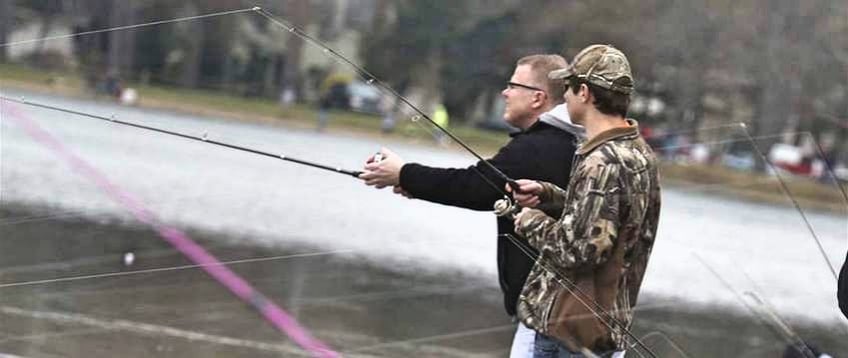 Tyler, who just graduated from high school, said his family has always been encouraging him, both with his fishing and his faith. His dad, Steve Holben, believes that the two intertwine well.
"He is always carrying the message with him," Steve told Kerusso. "He carries it well."
Steve believes his son could be a good role model for younger anglers.
"At Tyler's high school, they were giving a fishing seminar and one of the teachers said he thought Tyler should have been giving the class, more than the teacher," Steve recalled.
Even Steve said Tyler has outgrown his advice. "He kind of schools me," the dad said, laughing.
The two still fish together as often as they can.
"Definitely not as much as I like," Steve said. "But he pretty much fishes every day, weather permitting. He has gone far beyond our expectations. He is the best fisherman that I know."
"Holding on to the words You've spoken
Through the fight and the flames I'm not alone
My hope in You is set in stone…"
Tyler said he is constantly preparing for the next tournament in many ways related to the sport itself and some ways that have nothing to do with fishing ­– not for fish, anyway. #christianathletes #teamjesus
"Some people think I just sit out there in my back yard with a bobber and a worm, and not do anything," Tyler said. "But bass fishing is a science. I look at the weather, how it's been the past couple days, today and the days coming up. How are the fish – especially the bait fish – reacting? And then I try to predict what they are doing."
He said everything involved the sport of fishing, including the wind, has to be broken down.
"If the wind is blowing North, then that's where the fish are going. I have to utilize the weather as a whole and the structure of the lake. … Basically, you have to analyze the lake, the weather and make sure your equipment is clean and up to date. You also have to have the right mindset by practicing as you play: to go all out, even in practice."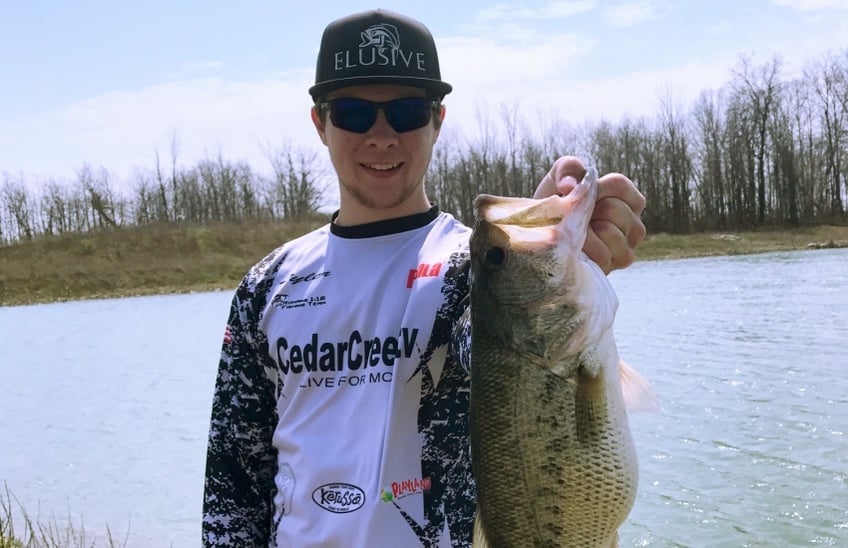 Tyler notes that all aspects of his sport require keeping "your mind on the right track," adding that fishing is very much a mental sport. But, for Tyler, success in his efforts means also preparing his mind and his spirit in Scripture and in prayer.
"A lot of guys that play other sports, they don't have that mental strength," he says. "Bass fishing really utilizes that other side of you. It definitely takes a lot of discipline to be successful."
"You will give me strength and wings to fly to rise above the night
So come what may let the waters rise and I'll walk on the tides…"
He said he started actively pursuing a career in pro-fishing because he didn't want a job that he'd grow to hate.
"I wanted to be outside and doing something I want to do for a living," says Tyler, sounding wise beyond his years. "And I asked myself: What have I been doing all my life that I already love and know a lot about? And fishing was the answer. … I have busted my butt, and I want to beat everybody else out there on the water!"
His preparation to do so includes listening to a lot of contemporary Christian music ­and reading Scripture on the way to the water, he said.
"I'm really big into music," he said. "My favorite song right now is 'Unbroken' by Disciple. The song is about how whatever happens, God is in control. It gives us a lot of confidence and assurance, that no matter if I win or lose – or anything going on at home, whatever happens – God has your back and he is always holding onto you no matter what. It really encourages me."
He also listens to a lot of Mercy Me, Lecrae and other Christian rap artists, especially when he is fishing in tournaments. "I also love Creed, from the '90s," he adds.
Despite his very busy schedule, Tyler tries to fit in time with God everywhere he can.
"I use my phone a lot," he said. "I look up a verse for the day. I try my best to be consistent with it. I push myself to do that." On the rides to the water or wherever he and his Northview High School teammate are going, Tyler will read Scripture from the passenger seat.
"It's really good at calming me down and getting the butterflies out," he says. "It gives me more confidence. I know beyond the shadow of a doubt that God is with me, he is leading me, living in me, loving me. I feel lucky to be where I am, and to have that confidence in God's protection and His plan for me."
*Song lyrics quoted are from Tyler's current favorite, "Unbroken," by Disciple.
• • •
Do you know a Christian athlete whose faith on or off the field inspires you? Nominate someone to be featured on the Kerusso blog: Email your suggestion to blog@kerusso.com