What is your personal elevator pitch? Not a rehearsed resume-version of your motherhood, career, or student self, but a brief, meaningful introduction of YOU, the person? Your thirty-second commercial, or "elevator pitch," is a way to share what matters about yourself with someone else; it's a little more than, "This is what I do," and a little less than your entire life story.
The framework of mine goes something like this:
Hi, I'm Liz.
I am a believer in Jesus, and eternal life beyond this messy existence.
I am an imperfect woman, striving to do my best.
I am a wife, married to my high school sweetheart.
I am a mother to two wonderful blessings; they sometimes drive me bonkers make me smile!
I am a fan of furry creatures.
I am not a fan of doing the dishes.
I love to read. Give me #allthebooks.
I could use more girlfriend time…
My favorite color is green.
I am a creative professional; my heart's desire is to impact others with words.
If we were together in a corner booth, this is what I'd want you to know about me, and the kinds of things I'd hope to learn about you over chocolate milkshakes and fries. This is the basis for community – and we don't have to have loads in common. If you're a woman, a believer, or seeker of something so much bigger than housework or houseworth, if you know there's more to life than making the grade at school or on the job, if you know there's much more to life than diapers or celebrity dirt, then you've come to the right place!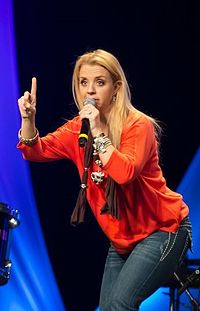 She Laughs is a place for women to laugh together (and sometimes at ourselves), to grow together, and to connect with other women who are figuring it out as they go along. Some of us are students, some of us get paid to work, some of us are mommin' it full-time, some retired (and yes, some just plain tired), and some of us don't know what we want to be when we grow up. #Adulting is hard. Can I get an "Amen, sister friend!"?
"Two are better than one, because they have a good return for their labor: If either of them falls down, one can help the other up. But pity anyone who falls and has no one to help them up."
– Ecclesiastes 4:9-10
She Laughs is a place to renew your hope, be reminded of your value, and help each other up. And, as often as we can muster, this is a place to laugh! This is a place for single and married ladies, confirmed cat ladies, sisters, mamas, and even those of you can't keep a fern alive; ALL the grown-up girlfriends are welcome here.
Why did we title this blog She Laughs, you ask?
Because life is sometimes complicated; joy mixes with sorrow, light with dark, and our personal foibles and follies are the very best fuel for the comedic fire. Even amid our struggles, God has blessed us with great capacity for joy. We are created in God's image. We are beloved. We are redeemed – and that is something to smile about!
"She is clothed with strength and dignity, and she laughs without fear of the future."
­– Proverbs 31:25
We hope you'll stop by often, subscribe for weekly blog updates, and tell your friends. We're saving you a seat at our table. And we don't want you to miss a moment of laughter or inspiration!
Submit a story or interview suggestion, or a link to your favorite inspirational/funny/encouraging Christian women's story.
We'll be sharing clips from some of our favorite funny people here on She Laughs, including Kerri Pomarolli. If you have some favorite funny videos you think we should consider sharing, email us at SheLaughs@kerusso.com!
Here's a little something from Kerri about online dating for Christians. Enjoy!
Kerri Pomarolli is the perfect blend of comedy, inspiration, and message.
Known as Hollywood's favorite "Good Girl," the comedian has headlined sold-out
venues nationwide for more than 10 years with her refreshing, clean comedy
for all audiences. She's performed with celebrities such as
Jay Leno, Jim Carrey, and Carol Channing, just to name a few.