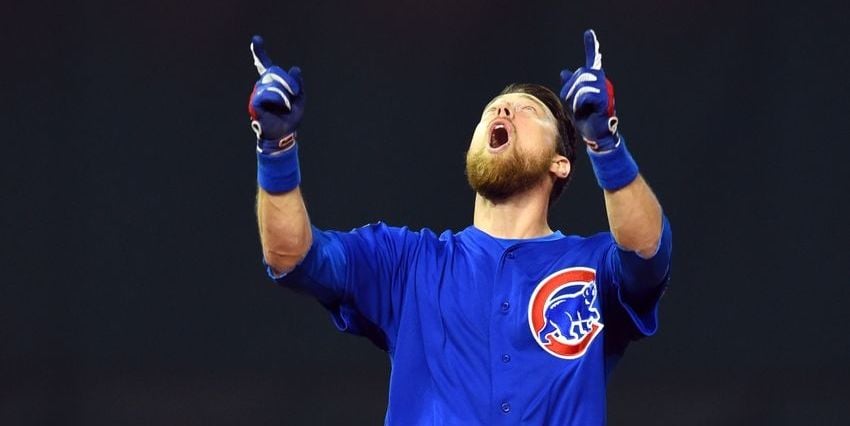 Sports fans all over the world have heard about the Chicago Cubs' come-from-behind World Series victory last year – and how it took the storied team over a century to get there.
The Cubs' second baseman, who was key in burying the team's 108-year-long postseason losing streak, is not simply a leader on the field – he's also considered by many as the spiritual shepherd of the team.
Devout Christian Ben Zobrist drove in the go-ahead run in Game 7 of the 2016 World Series to secure the Cubs first championship title since 1908.
Ben, who grew up in small-town Illinois a few hours from Chicago, the son of a pastor, told Beyond The Ultimate that he became a Christian as a child. His faith grew as he did, particularly during high school.
A gifted high school baseball player, Ben wanted to play ball in college, but he didn't get any offers. So, he made plans to attend his father's alma mater in Kansas City. But you know what they say about the best-laid plans.
"My senior year…I was scared, not knowing what was ahead, and I started worrying about the future," Ben was quoted as saying. "I hit my knees in prayer and said, 'Okay, Lord, whatever You want me to do and for whatever reason You are allowing this fear into my life, I want You to take it away.' I gave everything over to Him. If God wants me to do something else with my life, then that is where I want to be."
Not long after, his high school coach told him about some baseball tryouts that would be attended by college scouts; Ben went and gave it his best. "I did not want to quit playing baseball, so I went to see what could happen," Ben said. "(After the tryout) Coach Elliott Johnson of Olivet Nazarene University contacted me and said, 'We are looking for solid Christian players to build our baseball program at Olivet.'"
He ended up playing baseball at Olivet Nazarene for three years before transferring to Dallas Baptist University in Texas, where he was able to test his skills against some Big 12 schools such as Texas A&M and Baylor. He was soon drafted by the Houston Astros.
Before his first Astros affiliate game, he made a promise to his reverend father: "I'm going to be a missionary in the Big Leagues,'" he was quoted as saying by The Kansas City Star. #christianathletes #teamjesus
At first, his baseball career was less than stellar; the Big Leagues seemed farther and farther out of reach. Ben struggled, both on the field and in his faith, as he was demoted to the Tampa Bay Rays' Triple A team in 2006.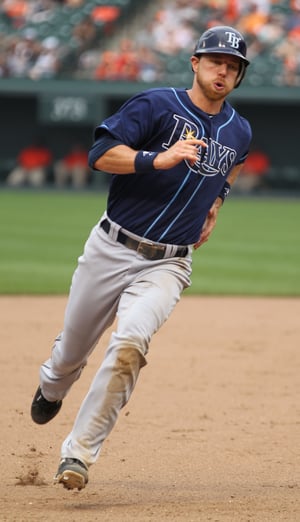 "I wondered why God allowed this to happen, and I started to have lots of doubts," Zobrist said. "The Bible says: 'And we know that God causes all things to work together for good to those who love God, to those who are called according to His purpose (Romans 8:28).' Being sent up and down in both 2007 and 2008 was a great lesson for me. I had a prideful and wrong attitude.
"God was saying to me, 'Keep working, keep glorifying Me; wherever you are, don't grow weary in doing good, for in due time, you will reap,'" Ben explains.
So, he kept plugging away. His game improved year after year, and Tampa Bay eventually made him their go-to hitter and second-baseman in 2009, the same year he joined league-leading hitters in several stats. In 2010, he and the Rays struck a three-year deal; he earned his 1,000th career hit four years later.
The following season, 2015, was Ben's biggest yet: after a brief stint with the Oakland A's, he was traded to Kansas City in July, where he finished out the regular season after playing 59 games for the Royals with a batting average of .284, 7 home runs, 37 runs scored, and 23 RBIs.
But his standout season performance wasn't even the best part. The Royals would go all the way in 2015 – and Ben was definitely at the right place at the right time. He made himself a major contributor in Kansas City's World Series victory, batting .303 in the postseason with 66 at-bats, 15 runs scored, 20 hits, 2 home runs, and 6 RBIs.
Just a few months later, he realized an even bigger career dream when he was signed by a team he'd followed most of his life, as a native of Illinois: the Chicago Cubs. Ben's December 2015 deal reunited him with his former Tampa Bay manager, Joe Maddon, who'd since taken the helm in Chicago. (Maddon is responsible for Ben's nickname, "Zorilla," given because of Ben's above-average defensive versatility and hitting chops.)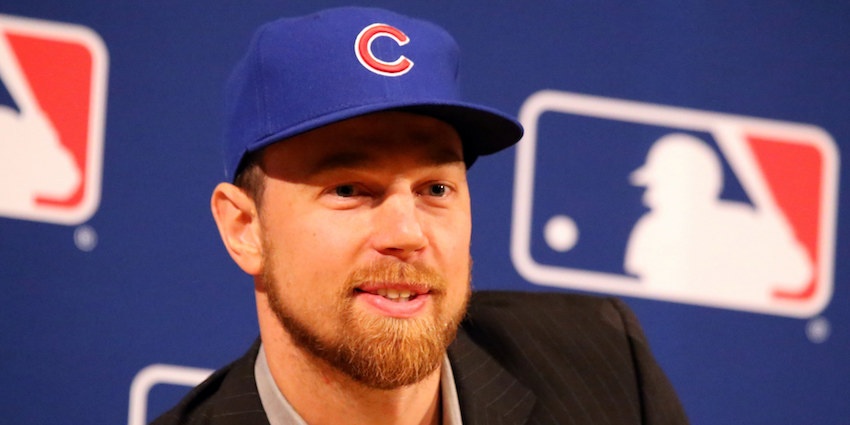 That partnership paid off in spades during the 2016 season, with the Cubs laying down one of their finest regular seasons on record and eventually – with much drama and difficulty – making it to Game 7 of the World Series.
The final championship game was forced into extra innings, but first there was a rain delay. During the break, the Cubs regrouped with a fiery pep talk from right-fielder Jason Heyward. The action restarted in the 10th inning, and with Ben's teammate, Albert Almora Jr., on second base, Ben came to bat. In a play that is now seen as the title-clincher, Ben banged out a double – and a go-ahead run – as the speedy Almora flew home.
Instantly, the Cubs' best-known Christ-follower threw his hands in the air, pointing to heaven and loudly praising the Lord for the key hit.
Within minutes, the game was over, the Cubs were celebrating, and Ben was awarded the coveted World Series MVP trophy for his efforts and leadership o the field. Off the field, though? Despite the ferocious-sounding nickname and his intensity as a competitor, Ben's reputation among teammates is one of humility and compassion, according to many reports from media and fellow athletes.
St. Petersburg (Florida) Times sportswriter Mark Topkin wrote that Ben has long organized Bible studies and group prayers with his teammates, adding that the pastor's son "doesn't judge or proselytize, refraining from forcing his beliefs on anyone, though willing to get involved if asked."
A former counselor for Camp of Champions USA, a Christian summer day camp in central Illinois, Ben often speaks at church events about his early life and success, for which he credits all to God. He and his wife, Christian singer Julianna Zobrist, live near Nashville, Tennessee, with their son and two daughters.
Throughout all the years and success, Ben's primary purpose – the one he shared with his father before his first pro baseball game – has not changed; he still sees the baseball field as his mission field.
"I know that as a Christian athlete, people are watching, and so I want to be the best example I can be and show that I am different – that Christ has changed my life," Zobrist said in 2013 at a Fellowship of Christian Athletes event. "But at the same time, I want people to know that grace is for everyone. We all need grace. We all need Christ."
• • •
Click here to subscribe to weekly blog updates via email! And if you'd like to share your story with us, or request prayer, we welcome you to do so here.