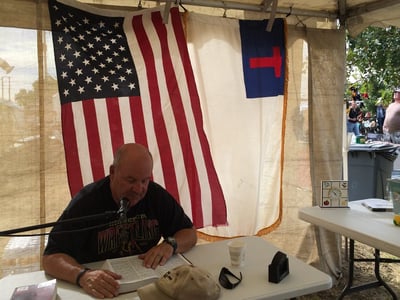 This May, the Eureka Springs Ninth Annual Bible Reading Marathon was held in Kerusso's home base of Carroll County, Arkansas. Eight Kerusso employees took part in the marathon: Holly Grisham, Michael Straley, Deborah Spate, Yolanda Weinman, Denis Hamer, Candy Tollett, Kelli Walker, and Tanya Jasso.
The eagerness of Kerusso associates in joining the marathon springs from the basic work of the company: revering God's Word. Company founder Vic Kennett is happy to see the links between Kerusso and the Bible Reading Marathon, saying: "It's what we are about."
Held in a refurbished early 20th century church, the marathon is an effort to boost Bible Reading. Bonnie Roediger, founder of Bible Reading Ministry International in Green Forest, Arkansas, was inspired several years ago to encourage people to read the Bible, the most influential book in all of history.
According to Bonnie, the first Bible reading marathon was launched on the Mount of Olives, in Israel, in 1988. That effort was coordinated by Dr. John Hash, CEO of Bible Pathways. The recent event in Eureka Springs, Arkansas, was the ninth consecutive annual event held in Carroll County to celebrate this Historical Bible Reading Marathon.
Bible Pathways is known for its 15-minute-a-day reading plan, which will take the reader through the entire Bible in a year. For a Bible marathon, it requires 365 people reading 15 minutes per day, or a total of 90.5 hours.
This goal to encourage Bible reading is so simple in its approach, but so important to the overall spiritual health of the nation. Bonnie says:
"When God called me in 2010 to serve, my heart was broken over the disunity in the Body of Christ. If we could do this marathon in cities, it would bring unity to the body of Christ. It's amazing what God has put on people's hearts."
Besides the Bible Reading Marathon, Bonnie and her husband, Jesse, started Bible Reading Ministry International in 2013. BRMI's mission statement reads:
"BRMI's mission is to encourage believers to hold Bible Reading Marathons in their area on an annual basis." Second Timothy 3:16-17: "All scripture is given by inspiration of God, and is profitable.... That the man of God may be perfect, thoroughly furnished unto all good works."
Such a monumental goal is one Bonnie cherishes.
"We teach people how to have a Bible reading marathon." Isaiah 55:11 reads: "So is my word that goes out from my mouth: It will not return to me empty, but will accomplish what I desire and achieve the purpose for which I sent it."
She also cites Matthew 4:4— Jesus answered, "It is written: 'Man shall not live on bread alone, but on every word that comes from the mouth of God.'" Bonnie explains the result: "As we declare that out in the airwaves, the Word of God goes out."
"Since 2013, we have three annual marathons in Kathmandu, Nepal through our partner there; in 2018 we plan four. One of the pastors in Uganda wanted to be taught, so he traveled two days on foot!"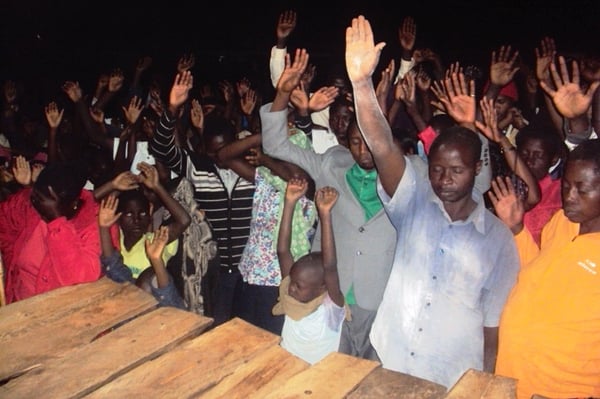 The efforts to feed this spiritual hunger employ a variety of methods.
"When we were privileged to go to Africa, there was another pastor in Burundi interested, so we took the 'Jesus Film' projector kit in their language. In the U.S., we have marathons annually in Minnesota, Wyoming, and here locally in Boone and Carroll Counties."
The Roedigers don't let limitations hinder them from the work God has tasked them with.
"He gives us strength every day to do that." In their previous work careers, Jesse was a truck driver, and Bonnie held various office positions. Their skillsets help them now as they prepare for the next phase of ministry: traveling around the U.S. in an RV.
"In the last two months, God has really brought about the reality of the dream he gave my husband in 1999, to travel the country in an RV planting seeds. We're looking forward to doing more and more traveling to plan Bible reading marathons. We have several interested in the state of Arkansas, including Bentonville and Fayetteville."
This is a marvelous story, one that shows just what can happen when people are willing to share God's Word with a hurting world.