The hustle and bustle of holiday cooking and favored guests has quieted. The candles from the Christmas Eve service are packed away for next year's opportunity to celebrate the birth of our King. Crumpled wrapping paper and bows with boxes emptied of shiny new toys and baubles are waiting at the curb for the trash collector even as I type (and what a blessing that is!).
For me, this Christmas brought joy and togetherness as we gathered with family and friends to mark the occasion—but now, a few days after the fact, a small disquiet casts a shadow amid the afterglow.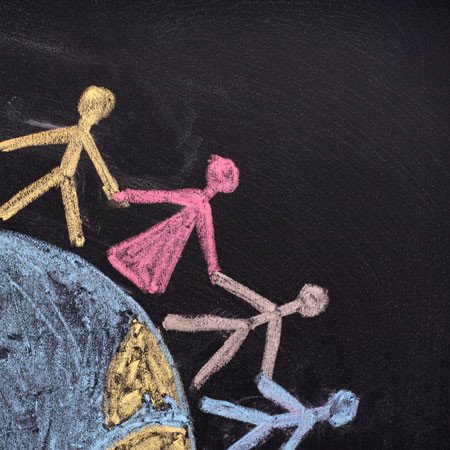 I find myself listening to the news, pondering events around the world as I hear about mysterious plane crashes and tense conflicts half a world away, and then of tragedy closer to home in the form of the sudden passing of a kind boy I grew up with—who had become a father of five and was only 38 years old.
And as news of this nature continues in our fallen world, I am struck anew by how blessed I am to be in a warm home with the ones I love, with water and heat on demand, a reliable vehicle to take me where I need to go, family nearby to support us, a husband and children in good health….
I am overwhelmingly blessed. Blessed to a degree that I have the time and energy to ponder the people and places who do not have peace in this season and blessed enough to desperately want the struggle to end, for God's peace to intervene in all things.
A lofty goal, to be certain, but there it is. This year, the belated Christmas gift I am hoping hardest for is peace on earth—and I hope you'll join me in this prayer.
Would you consider dedicating a portion of your prayer time for the next thirty days to pray for peace? This isn't a contest, a challenge, or something we'll be tracking with an online ticker; this is a believing heart reaching out to say, "This world is crying out for peace. Let's ask for it—together."
Asking for peace might be for an end to military conflict, a resolution of racial tension, peace within your own family, peace for the struggling marriage of someone you know—peace in any form.
Here are a few verses to meditate on as you converse with God on the topic of peace:
Glory to God in the highest, and on earth peace, good will toward men.
—Luke 2:14 KJV
Let the peace of Christ rule in your hearts, since as members of one body you were called to peace. And be thankful.
—Colossians 3:15 NIV
Cast all your anxiety on him because he cares for you.
—1 Peter 5:7 NIV
Peacemakers who sow in peace reap a harvest of righteousness.
—James 3:18 NIV
When a man's ways please the Lord, He makes even his enemies to be at peace with him.
—Proverbs 16:7 NKJV
And the peace of God, which transcends all understanding, will guard your hearts and your minds in Christ Jesus.
—Philippians 4:7 NIV
Praying God's peace for you as we approach a new year.