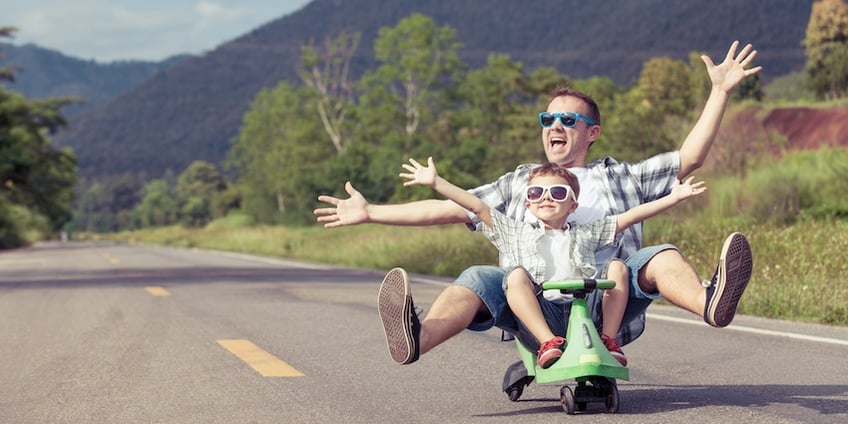 Don't wait for a single day each year to show Dad (or your stepdad, grandpa or a special fatherly mentor) how much you care! We've compiled a list of simple ways to bless dad any day any time – no matter how busy you are.
7 Ways to Encourage a Dad Every Day
• Ask Dad specifically how you can pray for him.

Follow through.

• Thank Dad for something every single day. Did he mow the lawn today? Go to work to support the family? Grill burgers? Help with homework? Find a reason to thank him for his efforts every day.
• Pack a lunch for Dad. A special lunch with his favorite sandwich, chips and drink is a thoughtful treat for his workday. If you can, include a note from a family member; it will make his day!
• Volunteer to take over a "Dad Chore" for a week. Maybe Dad always takes out the trash, cleans the cat box or vacuums the floors. Or maybe it's time for a detailed car clean-up. Choose a chore Dad typically handles, and do it for him in gratitude for all he does for his family.
• Tune in to Dad's favorites together. Does he have a favorite band, movie or book, or maybe a hobby like fishing or bowling? Choose a way to connect with Dad one-on-one, or as a family, over one of his favorite activities. Be sure to ask him how he became interested in it; Dads can tell great stories!
• Ask Dad to teach you his special skill. Is your Dad an expert fisherman, amateur electrician or gifted musician? Ask him to teach you something he knows. It's a great way to connect, and showing interest in his hobbies or talents will make him feel loved and appreciated.
• Dream big together. Ask Dad what he wanted to be when he grew up, and why he chose the career or field he's in. Tell him about your own plans or dreams.
Are you looking for a great gift for dear old dad (or your granddad, stepdad, or a special fatherly mentor)? Kerusso has been designing cool Christian T-shirts, jewelry, and accessories for 30 years, and we've got the inside track on the stuff dads love.
A few of our favorites gift ideas for Dad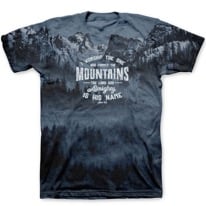 1. Who Made the Mountains T-Shirt
Our special printing process and soft-touch ink means the image on this Indigo Heather tee offers a unique visual experience, displaying the full glory of God's creation from mountaintop to valley, across the entire front of this stunning tee.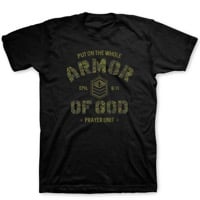 2. Armor of God Camo T-Shirt
There's a battle raging against anyone who has chosen to follow Jesus. The enemy doesn't want His message of hope and peace to spread. But, as followers of Christ, using the weapons of our warfare and our ability to stand against the darkness is powerful.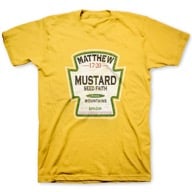 3. Mustard T-Shirt
Let Dad's sense of humor shine in our "Mustard" Christian T-shirt – a sure way to add a little flavor to someone's day. As Jesus told his disciples in Matthew 17:20, "Truly I tell you, if you have faith as small as a mustard seed, you can say to this mountain, 'Move from here to there,' and it will move. Nothing will be impossible for you."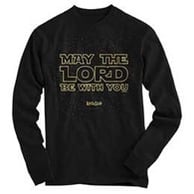 4. May the Lord Long Sleeve T-Shirt
God is a God of peace. 2 Thessalonians 3:16 says, "Now may the Lord of peace himself give you peace at all times and in every way. The Lord be with all of you." God is with you in every circumstance – no matter what!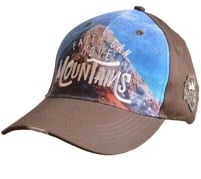 This Kerusso cap is a wonderful way to remind your dad that with faith in Jesus, there's no challenge too difficult, and no mountain too high to conquer.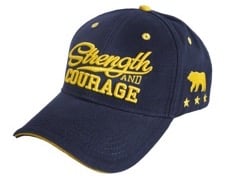 6. Strength and Courage Bear Christian Cap
In Deuteronomy 31:6, the Lord tells us to be strong and courageous. He says to not be afraid, because He goes with you; He will never leave you nor forsake you. Remind your dad the God of creation is with him. When you have faith and realize the one true God is with you, nothing can defeat you!
• • •
We'd love to hear from you! Want to tell us which Kerusso tee or hat inspires you, or share a personal story of T-shirt evangelism in action? Maybe you'd like to carry Kerusso products in your store. Need to contact us about something else? Send us a note.