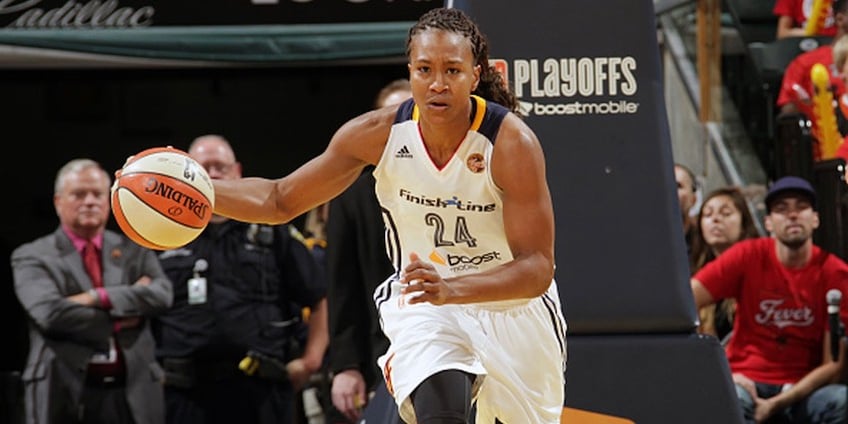 It was not an easy road, becoming the most-decorated professional female basketball player in the country. Born with major hearing loss in both ears and soon facing resulting speech problems, New Jersey native and outspoken Christian Tamika Catchings says her disabilities actually helped her, in the long run.
Catchings, now 37, retired last year from the WNBA, where over a 15-year career she led the Indiana Fever to the playoffs 12 consecutive times, winning the WNBA championship in 2012. But that barely scratches the surface of her accolades and athletic accomplishments:
Ranks 1st all-time in WNBA career playoff scoring
1st all-time in career playoff rebounds
1st in all-time regular season rebounds
2nd in all-time career regular season scoring
1st in total career steals
1st in career steals per game average
Holds WNBA record for most consecutive playoff appearances
Holds WNBA record for most all-star appearances
WNBA Most Valuable Player Award (2011)
WNBA Finals MVP Award (2012)
5 WNBA Defensive Player of the Year Awards (2005, 2006, 2009, 2010, 2012)
4 Olympic gold medals (2004, 2008, 2012, 2016)
WNBA Rookie of the Year Award (2002)
10-time WNBA All-Star
12-time All-WNBA team selectee
12-time All-Defensive team selectee
Led the league in steals 8 times
One of only 9 women to win an Olympic Gold Medal, an NCAA Championship, and a WNBA Championship.
Voted as one of WNBA's Top 15 Players of All Time in 2011
Achieved the first ever quintuple-double (25 points, 18 rebounds, 11 assists, 10 steals, and 10 blocks) in 1997
4 Olympic gold medals, most recently with Team USA in the 2016 Summer Olympics
4-time All American at University of Tennessee under legendary Lady Vols coach Pat Summitt
Named the Naismith National Player of the Year as a Lady Volunteer at UT
Member of Lady Volunteer Hall of Fame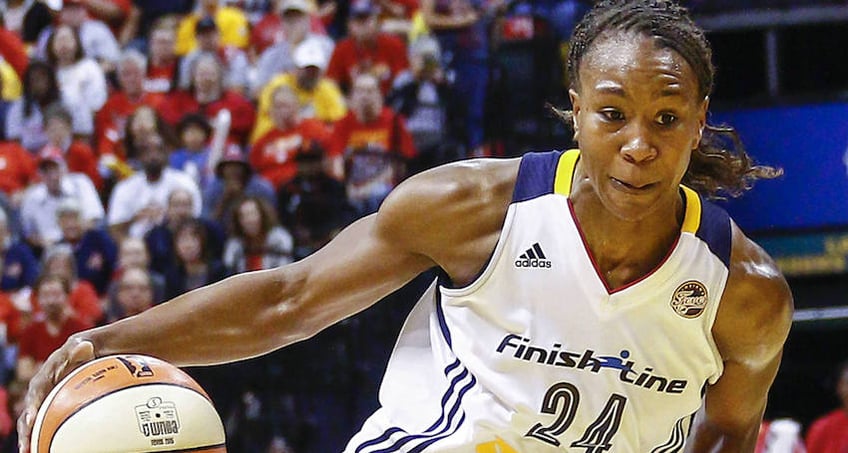 Since retiring from playing professional basketball, Catchings has focused more on her Catch The Stars Foundation, founded in 2004 to provide basketball camps, fitness clinics, mentoring, and literacy programs for underprivileged children to help them become successful in sports and academics.
She also, earlier this year, joined the NBA management team at the Indiana Pacers as Director of Player Programs and Franchise Development for Pacers Sports & Entertainment, and she also agreed to serve as a game analyst for women's basketball games on SEC Network.
How does Catchings manage to keep setting records and breaking down barriers? She credits her relationship with God for keeping her centered and moving forward. #christianathletes #teamjesus
"God is definitely my Savior," she said on CBN in March 2017. "He's the one that walks beside me through my ups and downs and the one that keeps me focused on where I am going in life. He protects me. He provides for me. He guides me and He leads me."
Her assurance can be traced back to a favorite scripture of hers: the powerful passage found in Jeremiah 29:11: "For I know the plans I have for you, plans for your welfare, not for disaster, to give you a future and a hope."
Setting her sights high since childhood – despite the road bumps
Catchings' father, Harvey, played in the NBA from 1974-85, with the Philadelphia 76ers, New Jersey Nets, and the Los Angeles Clippers. Basketball was in Tamika's blood, and it not only was a fun family activity, it soon became an escape from her physical challenges.
"I was born with a hearing aid, glasses, the whole 9 yards," Catchings told The Christian Athlete's My Story podcast. "I was bullied for just being different. Sports was the world where I was able to escape."
With enormous, bulky hearing aids and a speech impediment, she was the brunt of many jokes, she said. But she felt on equal footing during athletic play, because it didn't matter then how well she could hear nor whether she talked differently.
"In the classroom, kids could make fun of me for being different," Catchings told ESPN. "On the soccer field, and eventually the basketball court, they couldn't."
She grew up competing with the boys on the court, and by her pre-teen years, she'd announced her intentions to play pro ball when she grew up ­– with the men.
"In the 7th grade, I set a goal of wanting to be a professional player," Catchings said. "The WNBA didn't come around till I was a freshman in high school, so my [original] goal was to be in the NBA and follow in my father's footsteps."
Every day, when she wasn't practicing with her team, Catchings was playing with the guys' team.
"I wanted to be in the NBA," Catchings recalled. "I knew what I wanted to do, and Lord willing, I knew I was going to get there."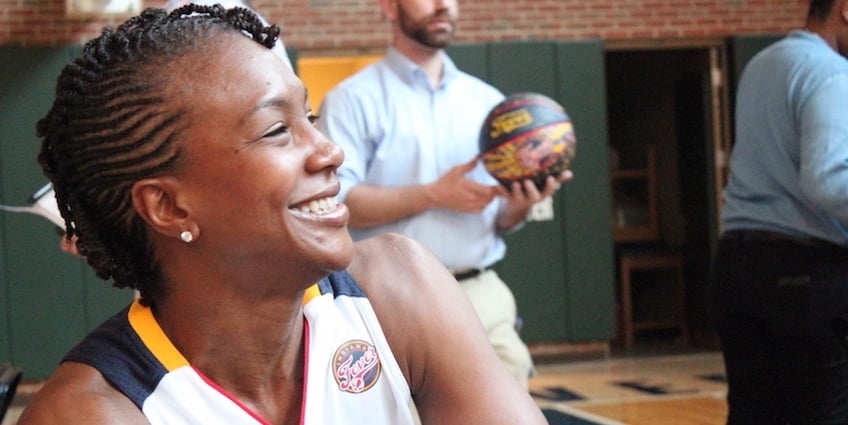 Catchings was raised in church; her mom and dad were "very adamant about getting us to church and doing our Bible study," she says. "But it was more of a hang-out."
During college, her attention was completely devoted to basketball, she says in a Beyond the Ultimate interview. "I considered myself a Christian, but nothing interfered with basketball."
It wasn't until her senior year at the University of Tennessee, when she tore her ACL, that she got as serious about her commitment to Christ as she was about her commitment to basketball.
"Despite the injury, God gave me peace," she said. "I never questioned Him, as I knew He would give me only what I could handle. He used that time without basketball to help me refocus and realize that He wanted to be the center of my life."
The terrifying injury quickly became a turning point of her life.
"I just became super-dedicated with just the walk I have with Him and my goal to live out His plan," Catchings said. "[I am dedicated to] being a witness for God for those who are going through the same thing.
"We all backslide at times; I'm not a perfect person and there are times when I still doubt my faith," she said. "Through everything, I always fall back on what He offers and reshift my energy and focus on Him."
During her time in the WNBA, 6 of her Indiana Fever teammates attended church regularly.
"We all came from different walks of life," she said. "We were all different. But to see that and the impact of them trying to change and fit in the word of God – that was good for me."
Even though she clearly has been the "star" on the court, Catchings emphasizes that teamwork is key to winning in any area of life. She said in a Fellowship of Christian Athletes interview that she has learned there is a rewarding aspect of teamwork that many people tend to overlook. Romans 12:10 says, "Be kindly affectionate to one another with brotherly love, in honor giving preference to one another." It's that last phrase, "giving preference to one another," that really stands out to Catchings, who truly enjoys seeing her teammates shine.
"It's all about spending that extra time after practice with players who need to work on certain things," she said. "I haven't always been a great communicator, but in becoming a leader for my team, I ask myself, 'What can I do to help people?'"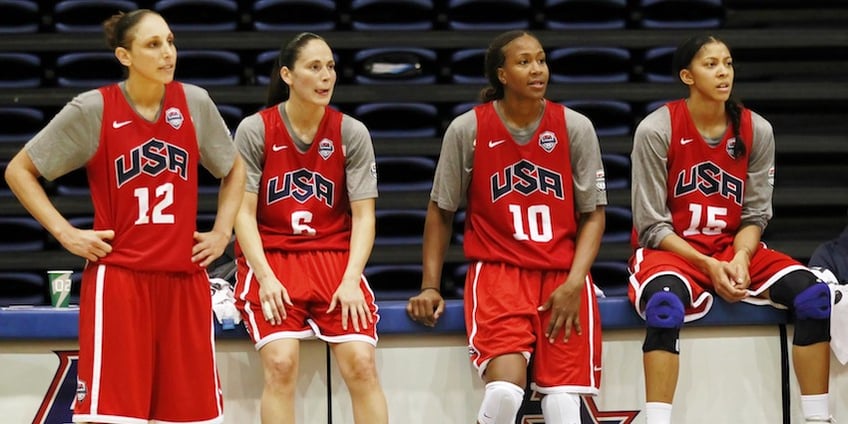 Catchings shares her best advice for youth
Catchings has mentored and shared stories from her career with thousands of youngsters through hands-on activities, classes, and more through Catch the Stars, which aims to empower youth to achieve their dreams by providing goal-setting programs that promote fitness, literacy, and youth development, largely in the Indianapolis area.
"There were a lot people around when I was younger who helped me get to where I'm at," Catchings says. "At the foundation, we want to help these kids achieve their goals as well."
What are her two biggest lessons she hopes to impress upon kids she meets?
First, she emphasizes the importance of selecting friends wisely. It is important to carefully consider who you surround yourself with, Catchings notes. "You want to be around people who are going somewhere with their lives. It really does matter who you hang out with."
Secondly, she says, guard your eyes and ears – and therefore, your heart; be choosy about what your watch and hear. "Environment does a lot to shape and affect you," Catchings said. "The music you listen to matters."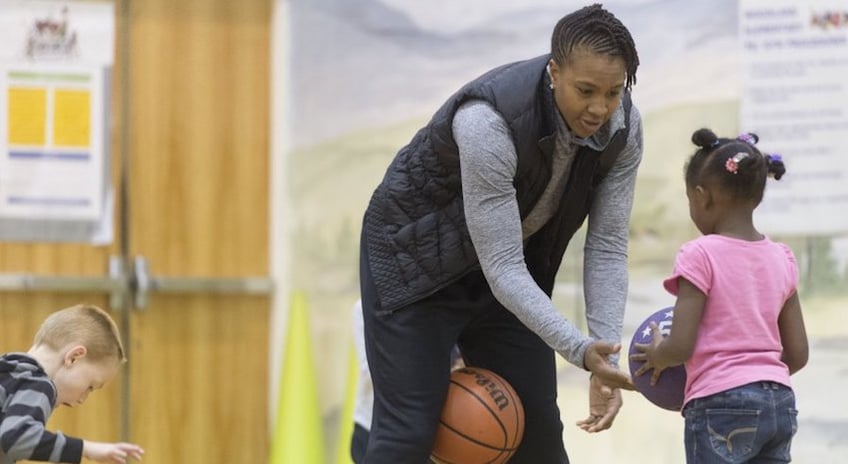 Catchings' Twitter page reveals both her faith and her outlook: "I want to be loyal to God. I represent Him in everything I do," she posted recently, for example.
But her 2016 autobiography, "Catch a Star: Shining Through Adversity to Become a Champion," is her biggest and best undertaking thus far to inspire and minister to youngsters and, really, people of all ages.
In his foreword, former Indianapolis Colts head coach Tony Dungy says:
"At first glance, it would appear that Tamika is one of those people who has been incredibly blessed with God-given talent and who has worked hard to take advantage of her opportunities. While that's true, she has also had to deal with many personal challenges and setbacks. In reading her story, you'll learn of some of those obstacles, how she used her faith in Christ to deal with them, and how overcoming those obstacles helped shape Tamika into the person she is today. I believe 'Catch a Star' will not only give you a look into Tamika's life, but it will also inspire you to be all you can be in your life as well."
• • •
Do you know a sports hero whose faith on or off the field inspires you? Nominate someone to be featured on the Kerusso blog. Email your suggestion to blog@kerusso.com