Google this phrase: "why is love so..."
The cool thing about Google is, it'll give you the most-searched options before you even type that last word—predicting what might be on your mind. Try it for yourself. And to save you the extra steps, I'll share Google's predicted results with you here: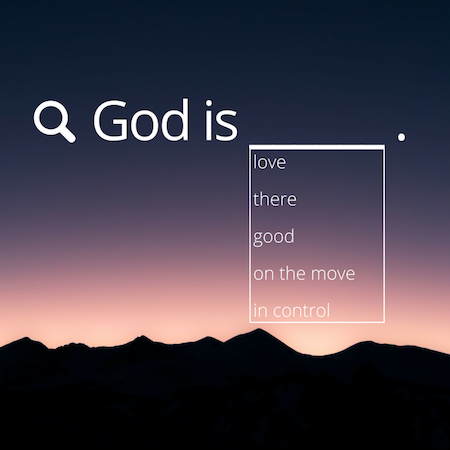 Why is love so ________?
hard
hard to find
important
powerful
scary
I find it fascinating to peer into the lives of my fellow online wanderers this way. Love is something many of us seem to be searching for, perplexed or challenged by, even afraid of. And like almost anything else you can think of (is there anything you can't find online?), we turn to the internet to dig deeper into the topic of love.
Let's try another one. This time, type in "God is" God is ________.
love
there
good
on the move
in control
When I ask God to lay a message on my heart to share with online friends, I always know he'll deliver, often in ways I couldn't have planned for.
Why is love so hard? God is love.
Accept him into your heart - it's easier than you think.
Romans 10:9 says: "If you confess with your mouth that Jesus is Lord and believe in your heart that God raised him from the dead, you will be saved."
Why is love so hard to find? God is there.
Seek and you shall find.
In Matthew 7:7–8, Jesus tells us: "Ask and it will be given to you; seek and you will find; knock and the door will be opened to you. For everyone who asks receives; the one who seeks finds; and to the one who knocks, the door will be opened."
Why is love so important? God is good.
God is good, and as his children, we should love even our enemies in honor of him.
In Luke 6:35, Jesus says: "I'm telling you to love your enemies and do good to them. Lend to people without expecting to get anything back. If you do this, you will have a great reward. You will be children of the Most High God. Yes, because God is good even to the people who are full of sin and not thankful."
Why is love so powerful? God is on the move.
God's power is living, moving, breathing, and ever-present both in Heaven and on earth.
Isaiah 57:15 says: "For thus said the high and exalted One, Inhabiting eternity, and holy is His name: 'In the high and holy place I dwell, And with the bruised and humble of spirit, To revive the spirit of the humble, And to revive the heart of bruised ones.'"
Why is love so scary? God is in control.
Do not be afraid.
Isaiah 41:10 says: "So do not fear, for I am with you; do not be dismayed, for I am your God. I will strengthen you and help you; I will uphold you with my righteous right hand."1st John 4:18 says: "There is no fear in love. But perfect love drives out fear, because fear has to do with punishment. The one who fears is not made perfect in love." If you are searching for love of any kind—romance, friendship, family, children, community—turn to God.
God is love.
God is there.
God is good.
God is in control.
Thank you, Lord, for loving us so.