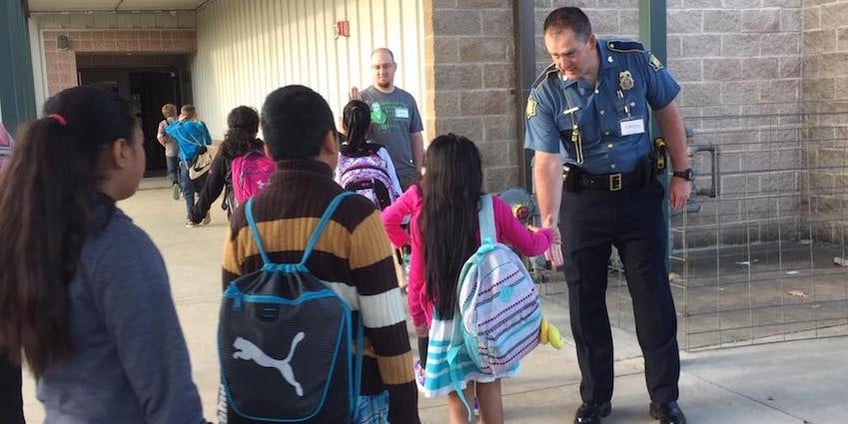 Bright Futures Berryville is making an impact ­– a big one – in the lives of students in its corner of Northwest Arkansas. The proof is in the wide grins on the students' faces as area residents and community leaders give them high-fives as they enter the school buildings.
The volunteers, dubbed "Champions," signed up to help Bright Futures make students feel like stars during the critical month of April, when standardized testing takes all the kids can give many days out of that month.
The Berryville chapter of Bright Futures USA is less than a year old; a glance at the local organization's Facebook page makes clear that the group's leadership and Champions – and the entire community – take very seriously the group's mission to meet students' needs outside the classroom and give them a boost at every turn.
"Start children off on the way they should go, and even when they are old they will not turn from it."
— Proverbs 22:6
Bright Futures Puts Love Into Action, One Need at at Time
Bright Futures USA is a non-profit organization based in Joplin, Missouri, that helps schools connect student needs with resources that already exist in their community, bringing together businesses, human service agencies, faith-based organizations, and parent groups in a way that helps them to quickly and efficiently meet students' basic needs – often within 24 hours. This enables students and teachers to focus on education and achieving success, organizers say.
Bright Futures operates under the belief that when communities invest their time, talent, and treasure in their schools, students are more likely to stay in school through graduation, have a higher degree of self-worth and confidence, and set and reach goals for the future. In turn, these students grow up to be better neighbors, quality employees, and impactful leaders in their communities.
Dozens of area residents and dozens of businesses have joined the Berryville School District's group as Champions, donors, and group leaders; most give in ways that may seem little, but to the kids, they're huge. Kerusso is one of those businesses, earlier this year giving $3,000 to Bright Futures Berryville ­– its biggest donation to date, said Berryville School District testing coordinator and Bright Futures Berryville's coordinator Mindy Hicks. Kerusso employees also donated shoes and socks – some of the most commonly requested items by school staff looking out for their students' best interests.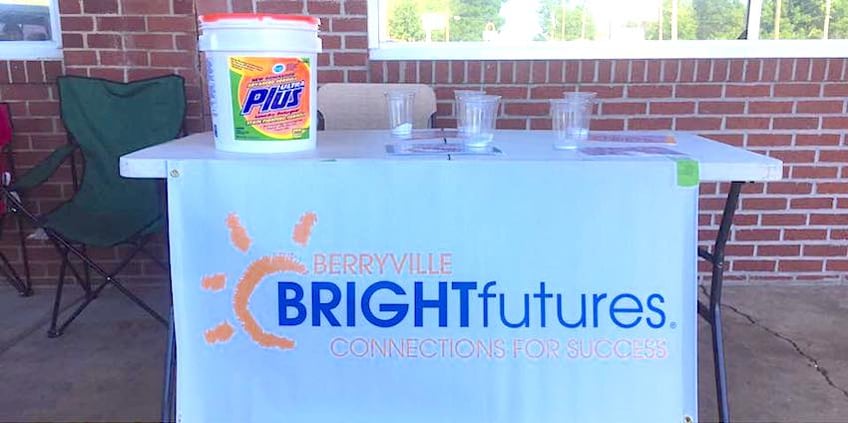 Ms. Hicks said the items donated thus far, by Kerusso and other local groups, have been distributed to Bright Futures site council leaders at each campus to be disbursed to students as needs arise. Each campus has a "site council" made up of local volunteers as well as staff from that school, so they can remain watchful at all times for new opportunities to help students.
"Each building's site council works to meet the needs in their building," Hicks explained. "Teachers or support staff identify the student's need, and if there are not resources inside the school to meet the need, then the need is given to the site council leader. The site council leader will meet the need with their resources, and if they cannot, we post it on our Facebook page or email it to our volunteers and community groups who've asked to be kept abreast of the program."
Many of the students' needs arise individually, and some are posted on the group's Facebook page. So far, the community has responded so quickly and warmly that potential donors have remarked that they must race to try to meet a need before someone else does, Hicks said. For example, several Facebook posts about students in dire need of new shoes were quickly met with donations – usually within minutes.
"Needs are met so quickly through our Facebook page that one lady told me, 'Wow! You have to be fast to take care of needs around here!'" Hicks relayed. "When I thanked another lady (who donated) recently, she responded, 'I am just glad I saw the need before it was taken care of.'
"I have been completely overwhelmed at the community's response to Bright Futures Berryville; the willingness of our community members to take care of students' needs is just amazing," Hicks added. "Many in our community did not know – and many still do not know – just how sad the situations are that our students deal with daily. As word is getting out, the more involved people have become."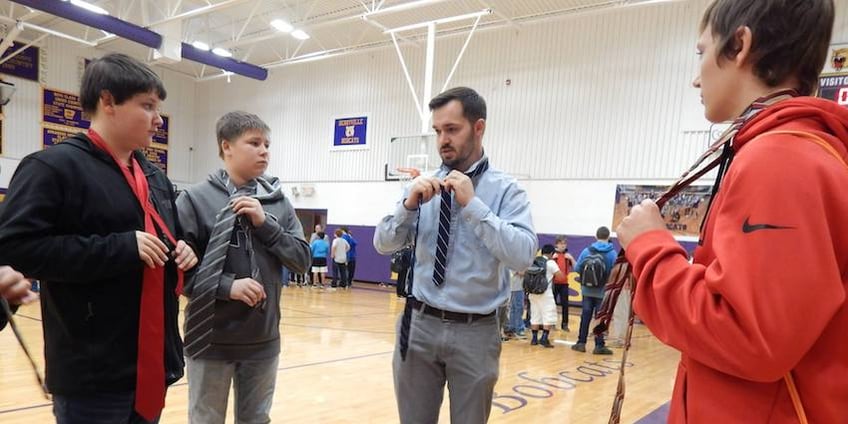 Bright Futures has hosted a number of events this year to help boost students' confidence ­and make them feel special, but probably the most visibly impactful event they held was the Tie Day Assembly at Berryville Middle School in March.
Every male student was given a tie and was placed in a small group to learn how to tie it; community volunteers led each group, showing them step-by-step how to form their tie knots until each student had it down. The mentors also talked to the young men about topics such as self-confidence and the importance of firm handshakes, making eye contact and showing respect to others.
The photographs from that day reveal boys with beaming smiles, eyes up and ready to face the world.
Donations Big & Small Meeting Students' Needs through Bright Futures
Kerusso became aware of the Bright Futures program early this year, said Founder and CEO Vic Kennett. Two Kerusso employees, Amy Campbell and Lori Holland, serve on Bright Futures site councils at the middle and intermediate schools, respectively.
"We are honored to be able to donate to Bright Futures Berryville, and we are grateful for the organization's work for our local students," Kennett said. "This program is a great example of putting 'Faith In Motion,' which is also the creed for our new Kerusso Active line of apparel coming out next month. We believe helping organizations like Bright Futures is part of our calling, and goes hand in hand with scripture instructing Christ-followers to help those in need."
Hicks said Kerusso's cash donation – which helped create a financial security net so the program can meet new needs that community donations can't – is an important part of the fledgling organization's efforts, which kicked off in October.
"The donations we have received will only be spent on meeting the needs of students; we will use those funds to meet any need that is not met through requests to our community," Hicks explained. "We have a lot of kids who just struggle to be dressed appropriately. Shoes are always a need; we also have students who are hungry. Those are the needs that are always visible to the staff in the district."
Earlier last school year, Berryville Elementary and Intermediate schools developed a snack program to help feed students outside of lunchtime, and other area schools are now organizing similar efforts, Hicks said.
"Another area we need to address is providing education to our families, and encouraging and supporting them to break the poverty cycle," she said. "We don't want our program to be only a hand out, but also a hand up."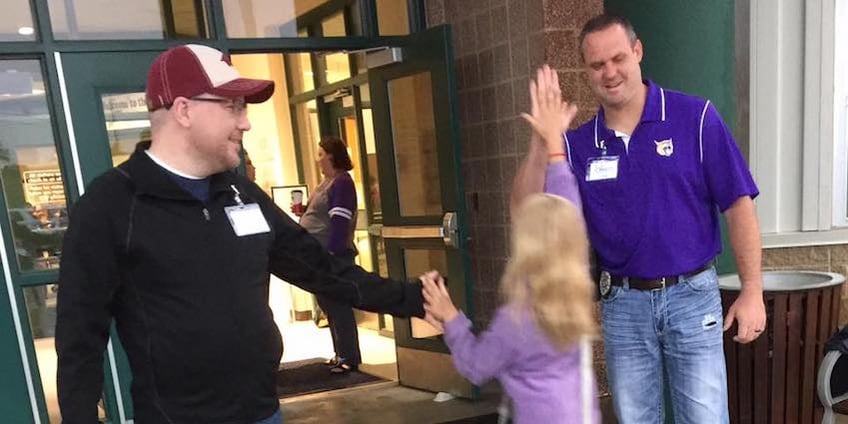 Additional donors to the program include Tyson Foods (Berryville and Green Forest complexes), Harps Food Stores, Clay Maxey Ford of Berryville, Kiwanis Club of Berryville, Southern Heights Baptist Church, Freeman Heights Baptist Church, Towering Oaks Church, Berryville United Methodist Church, and many other local churches, groups and individuals, she said.
Employees of many of those organizations also serve as site council members and Champions, volunteering in person for activities like greeting students as they arrive for school and writing encouraging notes to students about to tackle big tests and other curriculum challenges. Additional area businesses and organizations to lend employees and helping hands include Anstaff Bank, Berryville Police Department, Arkansas State Police, Carroll County Senior Center, State Farm Insurance, Arkansas Department of Health (Berryville office), Cornerstone Bank, Church on the Hill, Wilson Combat, and more.
Working with the community and "seeing the love and generosity toward our students" has been a big blessing for Hicks, she noted. "And the site council leaders and school staff have been blessed by seeing our students' smiles and responses," she added. "I hope our community has been blessed by being a part of the program."
Kerusso employees were thrilled to be able to assist the Bright Futures program, Kennett said. "We are in the business of spreading the message of God's love wherever we can," he said. "It is wonderful to be able to do so here at home – and through such a worthy program that is having such a big and immediate impact on students' lives every day."
• • •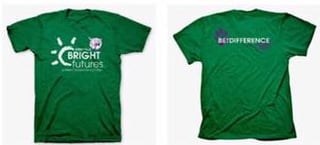 Bright Futures Berryville is selling T-shirts during the school year; proceeds help meet students' needs, such as purchasing clothing or shoes for students who need new ones, or helping provide snacks for disadvantaged kids. To inquire about ordering a T-shirt, or to sign up to volunteer or donate to the program, email MHicks@bobcat.k12.ar.us (but remember, they're on summer break right now!). You can also follow their Facebook page for updates on emerging and individual student needs.